Please log in to access all content on this page.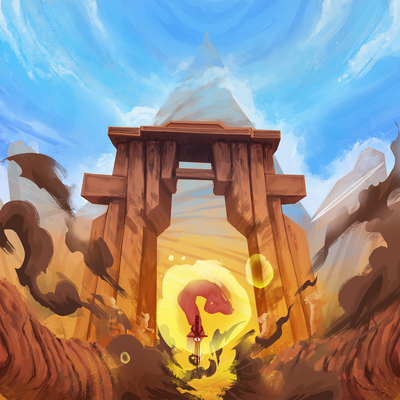 The Lone Blade is a 3D platformer where you play as a sword. The game takes place in the ruins of a world that once was yours. In order to redeem yourself, you will have to ascend throughout this fallen world.

«Punished by the gods, the greedy one was locked up in the blade, his ascent will be his redemption»

Instead of being a human or human-like character, you embody a sword. The main interest of being a sword is exploring new ways of moving around and overcoming obstacles. Jump, dash, spin, or spike to the ground and walls, in other words, create your own path.

The game is divided in 3 different parts. The player will have to venture through the ruins of a world, implying many obstacles he has to overcome. The first part will introduce the universe of the game, in a desert and wasted land. Then the second part will take place underground in an old gigantic temple full of old mechanisms. Eventually, in a third, he will try to make his way up to the top of a mountain.

At the end of each part, the player will have to defeat "bosses". The game is meant to be challenging, but not unfair or frustrating. The difficulty is a direct reflection of the game lore: the character need for redemption, and the struggle that it implies.