Online platform for Gaming Industry professionals, a database of Games, seeking Publishing or Funding
Sign Up
Game Developer
Find a publisher for your game
Find an investor for a studio
Focus on game development
Publisher
Discover next big hit
Instantly connect with studios
Find work for hire studio
Investor
Invest in a game and a promising team behind it
Discover leads faster
Registered Publishers and Investors
What People Tell About Us
I love using GamesRound, it's the most intuitive platform for a publishing manager. You can see a short preview of the game, learn about the studio and reach out to them - all in one platform. Many Thanks for making a such great platform.
We started using GamesRound on a weekly basis to detect new studios. The diversity on the platform is pretty significant. We could find studios with extensive track records, as well as pretty fresh ones.
GamesRound has a very friendlly interface and is a nice place to start looking for investors and publishers. I've been talking to some of them so I can improve my own projects. New features like the pitch deck helps a lot and saves a lot of time.
We use the platform, I receive notifications from time to time based on my saved filters. Idea is good - you set up filters once and get notifications regularly! Developers, please add links to pitches and playable builds - this would help evaluate projects better.
GamesRound is not only the place where you can find an investor for your project but also it can be used as a showroom of the projects.
GamesRound is a must for any developer that wants to have visibility in a crowded market. After submitting our games we started receiving contacts from publishers right away!
Great studio description, games list and outstanding team profiles. Reed full story of success in our blog

Full Description

Games List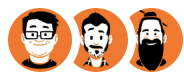 Outstanding Team Profiles
Industry News